Welcome
at the first, and the best, Camper Stop in Greece
37° 54' 41.34'' N, 22° 52' 41.96'' E
37.911484, 22.878322
Open all year, 1st January to 31st December.
Pitches for motor homes up to 8 meters and caravans.

Price: 15 Euros for 24 hours, all including.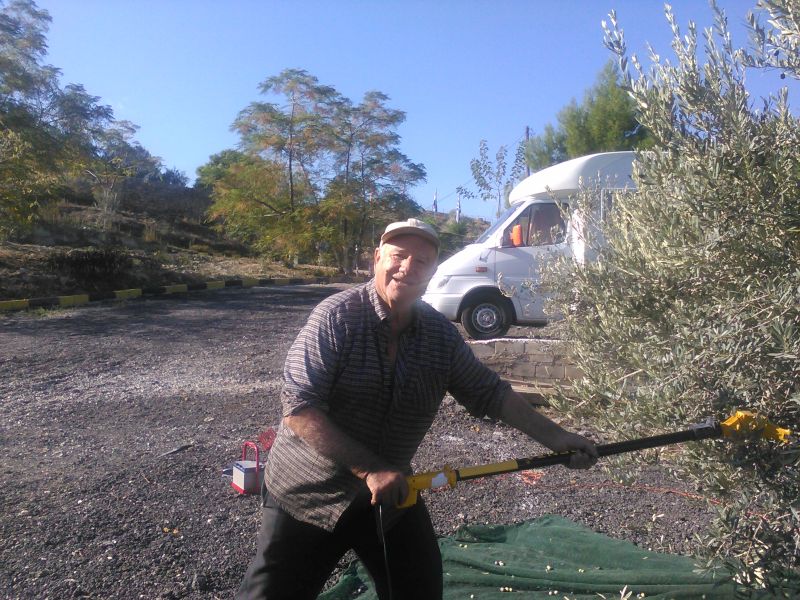 Our CAMPER STOP "AFRODITES WATERS" is unique. It was the first camper stop in Greece when it opened in 2010, and today it is one of the best in the country.

It sits at the gateway to the Peloponnese, it is an hours drive from Athens and 120kms east from Patras, making it the perfect stopping place for one or two nights. Too, Camper Stop is an excellent basis to do some day trips to Corinth Canal or even to Athens, Ancient Nemea, beautiful Nafplio, great theatre of Epidavros, Ancient Mycene or Tyrins.
The climate in this part of the country, dubbed the "California of Greece", is mild in the winter, with plenty of sunshine. If you are looking to settle down for a longer stay, there is nowhere better, particularly during the winter months.

Camper Stop "Afrodites Waters" has its name from the ancient spring next by, where the goddess Afrodite (Venus) once bathed. It sits in the heart of the Pantazis' family farm, cultivated by grandfather Vasilis. It was designed by son Spiros, who has travelled across Europe in his own motor home, so it meets your every need, from a washing machine to friendly, communal areas.
There is free WIFI, 230v electric hook-up, showers, WC, chemical waste, fresh water, and a playground for children. The pitches are all hard-standing – just what you need for year-round camping. Dogs are welcome.

The Camper Stop is located at the edge of the village of Ancient Corinth (link to Local Attractions), one of Greece's most historic sites. The site and museum are within the pedestrian zone and have stunning remains from Ancient Greece, the Roman Empire, and early Christianity.
The village centre is in walking distance and offers cosy tavernas and cafes, open all year, with some small supermarkets, medical service, a pharmacy, a post office and even a cash point.
And the view from Akrokorinthos, the citadel of Ancient Corinth, across the Gulf of Corinth to the mountains beyond, is breath-taking.

The famous "Corinth Canal" and the new town of Korinthos are in bicycle range (8-10 km). Korinthos is a typical modern Greek town and has everything you could want, harbour and tavernas, shops and supermarkets including a Lidl supermarket and a big farmers' market every Saturday morning. Good bus connections are available hourly from Ancient Corinth to New Corinth.

Or....take the train to Athens. We will arrange a transport to the train station of Korinthos.

We, the family Pantazis, would like to provide support to you for all your problems and we look forward to welcoming you to our special Camper Stop, and whether you stay for one night or one month, you will be sure of a very warm welcome from our family.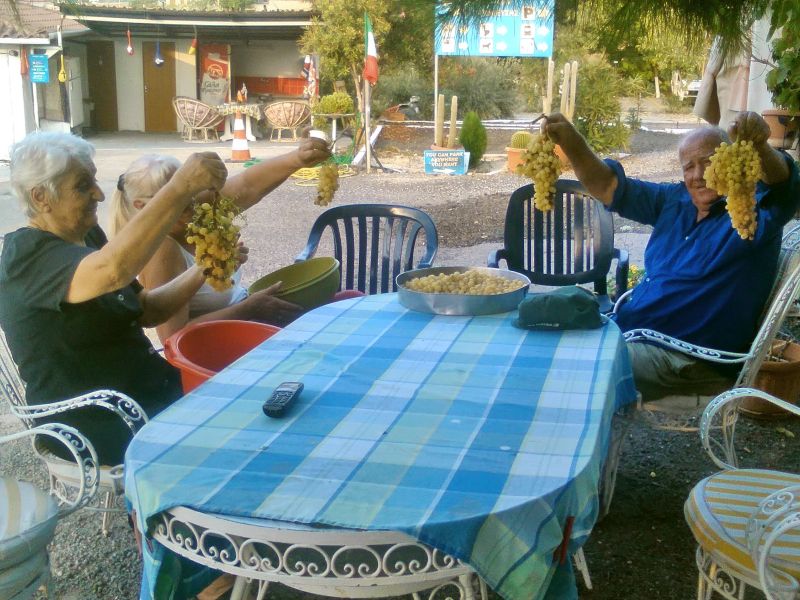 The Apostle St Paul spent a year in the village from 52 AD, and his "Letters to the Corinthians" are known across the world.....follow his footprints, you'll love it.

Open from
1/1 - 31/12
Sites for 30 campers
Price : 15,00 € for 24 h





Facilities
| | | |
| --- | --- | --- |
| GB (facilities) | D (Anlagen) | I (facilities) |
| Electricity | Elektrizität | elettricita |
| Night lighting | Nachtbeleuchtung | Illuminazione natturna |
| Area for waste waters | Bereich für Abwässer | Area per le acque grigie |
| Area for chemical toilet | Bereich für Chemie toilette | Posto per WC chimico |
| WC | WC | WC |
| Outside shower with cold water | Aussendusche mit kaltem Wasser, Dusche | Doccia sterna conacqua fredda |
| Inside shower with hot water | Innendusche mit warmem Wasser | All' interno didocce con acqua calda |
| Sink for washing dishes | Waschbecken für Geschirr | Lavandino per lavare i piatti |
| Water for camper | Wasser für Camper | Acqua per camper |
| Drinking cold water | Trink wasser | Acqua Potabile fredda |
| Barbecue | Grill | Barbecue |
| Outdoor area for picnics | Aussenbereich für Picknicks | Spazio esternoper pic-nic |
| Indoor picnic | Indoor Picknick | Pic-nic al coperto |
| Playground | Spielplatz | Parco giochi per I bambini |
| Pets allowed | Haustiere erlaubt | Animali ammessi |
| Ironing board | Bügelbrett | Asse da stiro |
| Open from 1/1 – 31/12 | Ganzjahrig geöffnet | Aperto dale 1/1 – 31/12 |
| Sites for 30 campers | Platz für 30 Camper | Siti per 30 camper |
| | | |
| --- | --- | --- |
| F (facilités) | NL (Faciliteiten) | E (actividad) |
| Electricite | Electriciteit | Electricidad |
| Eclairage de nuit | Nachtverlichting | Iluminacion |
| Zone d' equax residuaires | Afvoer grijs water | Aguas Grises |
| Place pone toilette chimique | Afvoer chemisch toilet | Aguas Nesras |
| WC | WC | WC |
| Deuche exteneure ean frade | Buiten-douche koud water | Ducha exterior gria |
| Deuche a linteneur eau chande | Binnen-douche warm water | Ducha interior caliente |
| Eau caurante pour le coumpeur | Afwasbak | Fregadero |
| Pour la vaisselle | Water voor camper | Agua pora Autocaravana |
| Eau Potable pour le coumpeur | Koud drink water | Agua potable |
| Barbeque | Barbeque | Barabacoa |
| Zone exterieure pour faire pique-nique | Buiten picknickplaats | Merendero Exterior |
| Pique-nique a l' interieur | Binnen kookgelegenheid | Merendero Cubierto |
| Cour de zeu | Speel toestel | Zona injantil |
| Animal Domestique Penni | Dieren toegestaan | Animales Permitidos |
| Table a repasser | Strijkplank | Tabla de Planchar |
| Accueil de 1/1 au 31/12 | Open gehele jaar | Abierto del 1/1-31/12 |
| Empialement pour 30 campeurs | Plaats voor 30 campers | Espaciopara 30 Autocaravana |